Why choose us if we choose you?
Our proven learning approach helps you develop the values, experience, skills and knowledge you need to embark upon and build a successful career.  Because we have multiple locations across the UK, we work in partnership with a national network of colleges and training organisations to provide support for the specific industry sectors and customer base that we operate within.
Many of our past apprentices remain with us to this day — 16 year-olds with their lives in front of them back in the 1980's are now closing in on 40 years at Actemium.  They are some of our most expert and mentoring colleagues!  We even have groups of former apprentices whose careers and families have grown alongside each-other.  Some still work together every day and have formed life-long friendships – an extended family.  That tells the story of Actemium.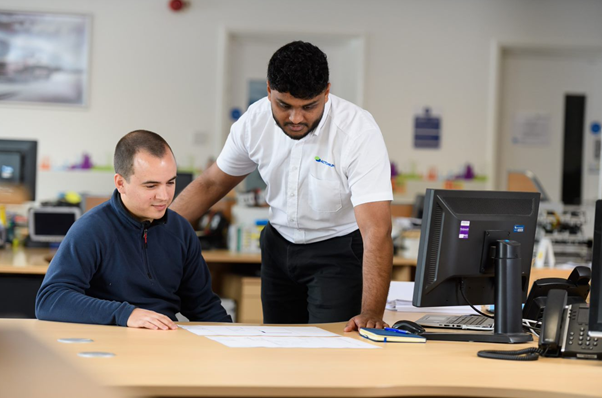 COMING SOON TO A CAREER NEAR YOU!
APPRENTICESHIPS ON OFFER IN 2024!
If we've sparked your interest, then click on the button below to register your details with us!  We understand this can be a confusing and overwhelming time in your life when choosing which path to follow.  Take your time, talk with family, friends, school careers advisors.  You can even get in touch with us and speak with some of our Actemium colleagues to get answers to your questions.
Others Have Done It, So Can You!
Freya Corkhill Cantwell – Junior Project Manager

I left school at 16 years old and enrolled on a 2-year BTEC Engineering course at college in Widnes.  I was 1 of only 3 females in the class.  My dad is a Mechanical Engineer, mum was a Draughtswoman and my uncle a Project Manager so you could say engineering is in my blood.

Whilst at college I managed to gain lots of work experience in multiple companies/industries and Project Management stuck with me because it could give me the variety I wanted.  Lots of different people to meet, so many angles to come from on a project like engineering, finance, contract management – it ticked all the boxes.

So, when I completed my BTEC I knew I wanted an apprenticeship instead of university, I wanted to get stuck into real projects and gain hands on experience.  That is where Actemium come in, I joined in September 2020 on a Level 6 Project Management Apprenticeship.  I am currently attending Blackpool & Fylde College 1 day per week and working towards a Project Management Degree, accredited by Lancaster University.

This is where is noticed a big change, there are far more women in my classes here, in fact I would say we actually outnumber the men which is encouraging for the future!.  I should be complete by Summer 2024 but in the meantime have been promoted to Junior Project Manager level within Actemium, Design at our Chorley office.  I want to gain more experience in the coming years and may work towards gaining Chartered status, I don't see myself doing a Masters at this time.

That is my story so far!

Cameron Mould – Mechanical Engineer

I joined in 2017 as a Mechanical Design Apprentice and attended training in Burnley towards a HNC qualification.  The idea was to do that initial 2 years and decide from there which career/development path to take.  I decided to continue with my studies towards a degree, that was my choice and the business supported me fully.

So, for the next 3 years, 1 day per week I attended Bolton University, however, it was important to me that the other 4 days I remained part of our Design Teams actively working on real projects.

I achieved a 1st Class Honours Degree in Mechanical Engineering.  The business would have supported me further towards a Masters but I chose after 5 years study to focus full-time on my career and delivering projects in the Nuclear Industry.

My days & weeks are now spent on Mechanical Design, Documentation and Engineering Calculations.  I have recently applied to the Institution of Mechanical Engineers (IMechE) to become professionally registered, this is important for me personally but also for the business so a Win Win.  Chartered status may be my next step?

Having joined the business at 18 years old, 6 years have passed by so quickly.   At 24 I am happy to say I took the right career path with the right company.

That is my story so far!

Kaci Wilson – Accountancy Apprentice

In June 2022 i had an opportunity for 1 week work experience at Actemium, Birmingham.  That went so well only 1 month later I joined the business full-time on a 4-Year Accountancy apprenticeship.  This was a career diversion for me having completed A-Levels in Maths & Health/Social Studies, followed by a college course in professional bakery.

I am 20 Years old and in 2024 I will progress from Level 2 to Level 3.  I am currently based at the Actemium, Birmingham office 4 days per week and the 5th day I attend Solihull College.  My current duties focus on accounts payable, raising purchase orders and processing supplier invoices but I also support the Finance Business Partner.  In addition, I look after the Protective Workwear (PPE) for our site-based workforce, this helps me understand other parts of the business beyond the numbers £££

I love my college course! and try to match what I learn in the classroom to how we operate as a business.

So far so good, that is my story so far….

Sam Ottley – Electrician

I joined Actemium as an apprentice in 2017 at the age of 18 having attended WMG Academy in Coventry for 2 years studying Engineering.

For my 1st 3 years I worked 4 days a week on site and the other day I was at college studying.  I am now 25 and a fully qualified electrician, 7 years have gone by so fast!

Initially I worked within an Actemium Team resident at the Jaguar Landrover, Whitley site in Coventry (3 years), I then moved into our EV Charging Business because I knew it was the future and was excited to be part of it.  Today, I am working in Dublin, Ireland on an EV Charging Installation project for a major customer but have been all over the UK in recent years, that was part of the attraction.

I want to continue to progress and hopefully will soon attend a SSSTS course (Site Supervision Safety Training Scheme) which will enable me to take more responsibility.

In the future I would like to run my own site projects, organise resources, materials etc…and be the main contact point for our Project Managers and the customer too.

I have seen other colleagues do this and I am ready for this next step.

I want to keep studying and Actemium are supporting me to gain 2391 Inspection & Testing Approved Electrician Level.

Ultimately my end goal is to become a Project Manager but there is no rush, I enjoy what I do now.  I also know that my years on site will make me a better Project Manager when I do reach that point.

My mum has worked for Actemium for longer than I can even remember, so I knew I would be OK when I first joined.

There is a long-term career in front of me and I have colleagues I work with every day that have followed exactly the same path as I am on.

That is my story so far!